Circuit Breaker Test Equipment
The circuit breakers must perform the vital protective function of connecting and disconnecting the electrical power in a reliable way; this will require not only proving their reliability with on field tests during installation, but also with regular maintenance tests during its lifetime to prevent costly failures and problems that could even compromising the safety of the substation.
The circuit breaker test equipment is designed for testing and analyzing the proper operation and condition of the circuit breakers on the power systems; for performing these tests, the circuit breaker test equipment simulate different situations through test signals, and checks several aspects such as operations time, synchronization, contact resistance, trip times, speed, etc, which are compared with the expected previous or initial features; by predicting accurately the condition of the breaker, the circuit breaker test equipment avoids the need of internal inspection, obtaining reliable data that justify whether further maintenance is required by opening the breaker or not, so that the circuit breaker test equipment helps also to reduce to the minimum this maintenance and its associated cost.
EuroSMC manufactures a complete line of circuit breaker test equipment for different types of tests and for the user can select the most suitable unit for their specific application.
Options in circuit breaker test equipment for the different applications and testing types
Circuit Breaker Analyzer PME-500-TR, PME-600-T, PME-700-TR

This circuit breaker test equipment is mainly addressed for the condition assessment of medium and high voltage circuit breakers; a field portable instrument with standalone functionality, that integrates several types of tests to analyze features such as: 3-phase contact timing and recording of opening/close operations, auxiliary contacts operation, synchronism between the contacts, 3-phase contact resistance, detection of pre-insertion resistance, coils current analysis and status of DC batteries, and motion analysis through contact travel speed and acceleration data.
This circuit breaker test equipment has been designed in close cooperation with our customers and it is a reference used by breaker experts worldwide; a circuit breaker test equipment that integrates timing analysis with contact resistance measurement, a 3-phase micro-ohmmeter, and it is equipped with rechargeable batteries, built-in printer, easy to use touch screen with graphic results, IP67 case, and it is easily transported with just 5 kg (PME-600-T) and very small size.
Micro-ohmmeter PRIME 600
The circuit breakers usually carry a large amount of current; higher contact resistance leads to higher losses, lower current carrying capacity and dangerous hot spots in the breaker, so that low resistance testing with micro-ohmmeters is used for detecting and preventing future problems. The new PRIME 600 is a circuit breaker test equipment that integrates both the contact resistance and the dynamic resistance measurement (DRM).
The dynamic resistance test, which is essential in analyzing the wear of the arcing contacts in SF6 and vacuum breakers, is a function never found before in micro-ohmmeters, but in other type of circuit breaker test equipment, so that with the PRIME is not required to combine several equipment for the complete static and dynamic resistance analysis; the PRIME is a high current micro-ohmmeter that provides pure DC with smart control up to 600 A, with a wide measurement range, dual ground testing process, pre-defined test modes, thermal printer, touch display, and wireless remote control.
RAPTOR, Primary Injection System
The Raptor is used for testing many types of circuit breakers and relays, current, voltage and power transformers, switchgear, reclosers, ground grid testing, resistance testing, and in general all kind of primary injection applications; as a circuit breaker test equipment, it is very suitable for the tripping time analysis of LV circuit breakers and molded-case circuit breakers (MMCB, ACB, etc), and also as general high current source for the main primary injection test of the whole protection circuit, which includes the circuit breaker operation combined with the rest of the elements of the scheme.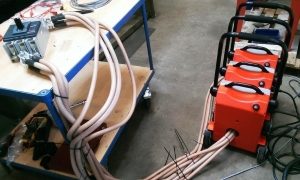 Thanks to its modularity, the Raptor is a circuit breaker test equipment which can be easily upgraded in power capacity to adapt to the different high currents range of the different circuit breakers; the amazing portability and design made it the best choice when selecting a multi-purpose circuit breaker test equipment, being possible to place it closer to the breaker, and reduce the power required; the reliable current calculator included in the Raptor allows to easily define the configuration required keeping in mind the impedance of the circuit, including the number and type of test leads and the impedance of the device under test.
The functionality of the Raptor as circuit breaker test equipment is extended with the contact resistance measurement; it is also suitable as circuit breaker test equipment in the specific case of the automatic reclosers, testing its entire functionality through primary injection.
Compared to any high current circuit breaker test equipment, the Raptor is smaller, lighter, more powerful, digital, easier to use, more modern, with better and more accurate technology, multifunctional, really modular, updateable, and with better results management, at a competitive price.
LET range, Primary Injection test sets
EuroSMC also offers traditional variac-based equipment, the LET units, with a wide choice of power ranges, which are also suitable to be used as circuit breaker test equipment for primary injection applications; various models from 1 KVA to 8 KVA, with simple, robust construction, compact size, and ease of use, with injection testing capacity over 20,000 A depending of the selected model.
Digital Timer PTE-30-CH
The PTE-30-CH is widely used for relay and panel testing, but can also be used as simple circuit breaker test equipment for measuring the opening or closing time of the circuit breaker, through manually commanded method.
Secondary Injection test sets
For smaller current requirements, as in the case of miniature circuit breakers, the wide range of EuroSMC secondary injection test sets are also suitable as circuit breaker test equipment for tripping time evaluation; the PTE-100-C is able to supply up to 250 A, and the PTE-50-CET and MENTOR 12 can combine their sources up to 150 A. QUASAR is able to deliver up to 360 A for 3 seconds.
EMU units and SMC-12 System
The SMC-12 System, formed by up to 10 EMU units, is an specific circuit breaker test equipment for MCBs in factories and laboratories, designed to meet the international standards for the routine and quality control tests of MCBs with regards to their thermal and magnetic response. The EMU units can also be used individually as stable current source, up to 300 A, for testing MCBs.
For more information, please check the related EuroSMC circuit breaker test equipment or contact us.