Solutions for Electrical Substation Maintenance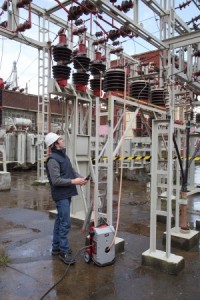 A well planned electrical substation maintenance assures reliable supply and reduction in failures. Many failures can be detected during the electrical substation maintenance routines, reducing the risk of significant plant downtime, and preventing future problems. The risk of a catastrophic failure can cost large time and money. The electrical substation maintenance involves periodic planned inspections, checking, testing and troubleshooting, to ensure the correct operation of all components and their interaction during the plant lifecycle. Typical inspection and diagnosis processes of the electrical substation maintenance includes, among others, transformers, breakers, protection relays, wiring and switchgear in general.
Each device requires different strategies. Implementing the right action at the right time will define different electrical substation maintenance procedures, whether time based, condition or reliability based. All of them must be supported by suitable testing tools.
Description
Related Products
Additional Information about electrical substation maintenance
Primary testing in the electrical substation maintenance
Thinking in cost and failure effect, the most critical pieces are power transformers and circuit breakers; many old transformers and breakers are in use with many aging problems that requires periodic maintenance. One of the best practices in electrical substation maintenance is the circuit breaker testing. Periodically analyzing their physical and electrical parameters helps to predict an abnormal operation before it happens. Open/close timing, poles synchronism, contact resistance and coils condition are the most commonly checked parameters, as well as DC batteries status and motion analysis. The small and friendly SMC PME-500-TR includes all mentioned functions that can be required in the electrical substation maintenance plans, and reduces the testing time to evaluate the condition of the breaker.
Measuring breakers contact resistance and other interconnections integrity is common practice in the electrical substation maintenance routines. Our new PRIME micro-ohmmeter results best-suited for this application, performing both static and dynamic resistance measurements, as it is essential for assessing the actual condition of the contacts in inaccessible SF or vacuum chambers.
Powers transformers are also critical during the electrical substation maintenance. In fact, its failing can produce large economic losses. They are exposed to several electrical and thermal stresses during its lifetime, and therefore many routine tests can be included in the electrical substation maintenance.
Apart from testing each device separately, it is essential to test the entire protection circuit on a periodic basis – or after any system modification – , to ensure integrity of the total circuit. The protection system can be tested as a whole by injecting primary test currents. The combination of mobility, digital regulation and versatility makes the RAPTOR the ideal system for all primary injection testing required in the electrical substation maintenance routines. Current transformer testing is also an important part of electrical substation maintenance. Protective relays can only operate adequately if they receive the correct secondary current from the CTs. The Raptor includes in one unit current, voltage and power transformer testing, and other functionalities (circuit breaker and switchgear testing, ground grid and step & touch measurements, etc)
Secondary testing in the electrical substation maintenance.
Periodic testing is necessary to ensure that a protection scheme provides satisfactory performance for many years after being installed, and secondary injection tests may be carried out at suitable intervals to check relays, protection panel, wiring and all secondary equipment performance, during the electrical substation maintenance planning, or after any modification. The type of testing required and frequency will depend on the type and technology of protection installed. Secondary injection may involve testing of overcurrent, distance, differential, voltage and frequency protections, reclose schemes, IEC 61850 compliance, etc, apart from the checking of all secondary control and protection circuits, wiring, polarity, burden, etc.
SMC offers the widest range of secondary injection test sets, single and 3-phase, to accomplish any secondary testing work during the electrical substation maintenance (PTE-100-C series, PTE Range, MENTOR 12, etc), along with a full range of accessories and must-have tools for every need (PME-20-PH, PTE-30-CH, etc). As usual with SMC test equipment, simplicity and ease-of-use are common to all secondary testing solutions for electrical substation maintenance.
For more information, please check the related SMC products.
For additional Information about electrical substation maintenance, see the following contents
Substation maintenance : Typical testing in substation maintenance and related SMC equipment. Test sets adapted to the application and the user.